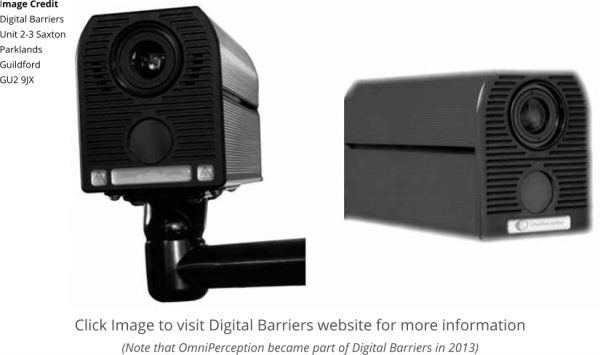 Project Management for complex funded research activities
System Design
Requirements Generation and Management
Management of Hardware, Software, and Mechanical developments
Coordination of external development suppliers
Purchasing, assembly, testing of prototype units
Undertaking of Safety, CE, and EMC certifications
Customer liaison 
Prototype "Beta Trial" installations
Technical Project Manager for >£1M joint research project with BAE Systems
I re-joined OmniPerception in May 2010 having worked with them before. They realised I was in the perfect position to step in to cover the departure of the Project Manager they had recruited since my last tenure.
The main task was to run a major project (>£1M) through the last few months of research and development to completion.
Commissioned by BAE Systems, the project involved a large number of diverse work packages centred on facial recognition software systems and had a complicated set of deliverables.
The team was extremely varied in many ways and involved people in Australia, Sweden, China and also some deliverables from the University of Surrey. Picking up the project in a manner that presented a seamless interface to the customer was very challenging, as the previous Project Manager had left two weeks before I was able to join.
System Design and Technical Project Manager for new Facial Recognition Sensor
With this major project successfully completed, I then picked up the task to design and manufacture a new camera system for a new type of face recognition sensor. Unlike the previous version, this camera system had to be designed to illuminate the subject automatically in dynamic "real life" situations where this could entail almost continuous operation.
The thermal requirements for the camera system led to the creation of a custom extrusion to form the body of the camera, acting as a giant heatsink. This was done in extremely close collaboration with the supplier of the extrusion and the mechanical design team, both of whom were external. I coordinated all the manufacturing of the mechanical components, the development of a new PCB, and the purchasing of all the optical elements.
I assembled and tested all the prototypes, which included having to build a special test facility to check the performance of the illumination systems.
We went from concept discussions to working prototypes on the CEO's desk in about nine weeks from start to finish – and that included getting the custom extrusion made! Additionally we did get two early mechanical prototypes of the extrusion manufactured using advanced spark erosion techniques, which was really fascinating.
The next step was to get the prototypes through EMC, CE and safety approval testing as quickly as possible.
I then managed and supported several trial deployments of the new system with different and diverse customers.
Sadly my time at OmniPerception then came to an end, bringing to a close one of the most fun and educational projects I've ever been involved in.